Remy Ma Drops Shether
The long-stewing beef between Nicki Minaj and Remy Ma boiled over into an epic one-sided rap battle in 2017 when Remy unloaded her clip on Nicki on the lethal diss track Shether.
The disrespectful record sent #BlackTwitter into overdrive, spawning countless memes and gifs. It took Nicki nearly a month to respond with an arguably sub-par response No Frauds, which left everyone in agreement — she lost that battle. Remy even appeared on the Wendy William's Show and declared her competition dead. While Nicki's career is bouncing back, it's a moment she'll never live down.
MUST READ: Fact-Checking #ShETHER: The Truth Behind Remy's Punch Lines
Adele Wins Album Of The Year Over Beyonce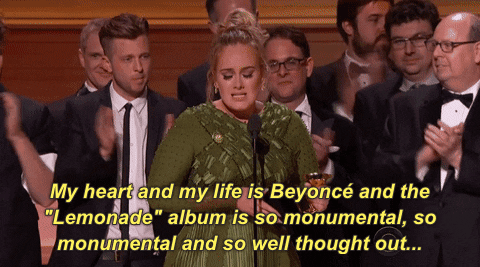 Beyonce's album Lemonade battled it against Adele's 25 and lost at the 2017 Grammys. Even Adele admitted Beyonce deserved to win and dedicate her gramophone to the queen with a moving speech. The Black community is still bitter about this one but Beyonce was a class act and thanked Adele for her kind words.
MUST READ: Beyoncé Should Have Won 'Album Of The Year' At The Grammys
Jay Z Drops 4:44
Jay Z followed in his wife's footsteps and stopped the world when he surprisingly dropped 4:44, the male equivalent to Beyonce's Lemonade. Hov spit some major gems on the instant classic and schooled the youth on things like credit, Black mental health and manhood.
The visuals to accompany 4:44 made it a masterpiece. Jay held intense conversations with his Black male celebrity friends, pulling back the veil on what Black men learned about Black love.
The 4:44 tour is Jay Z's highest grossing solo tour ever at over $40 million in tickets sales thus far. Jay snagged seven Grammy nods for 4:44.
Kendrick Lamar-Be Humble
King Kendrick returned to claim his throne in 2017 with the release of his critically acclaimed album Damn and statement-making video Humble. The 14-track disc reached number one on the Billboard 200 charts and reached double platinum status.
Kendrick secured two Grammy nominations, including Best Rap Album and Album Of The Year.
SZA
This year, SZA spread her #BlackGirlMagic across the charts and into the hearts of Black women who found therapy in her debut album Ctrl.
Ctrl debuted at number three on the Billboard charts and sold over 500,000 records while becoming an anthem for women everywhere. Sza and Ctrl garnered four Grammy award nominations, including "Best New Artist."
Year In Review: The Biggest Entertainment Moments Of 2017  was originally published on hellobeautiful.com
« Previous page 1 2 3 4 Next page »