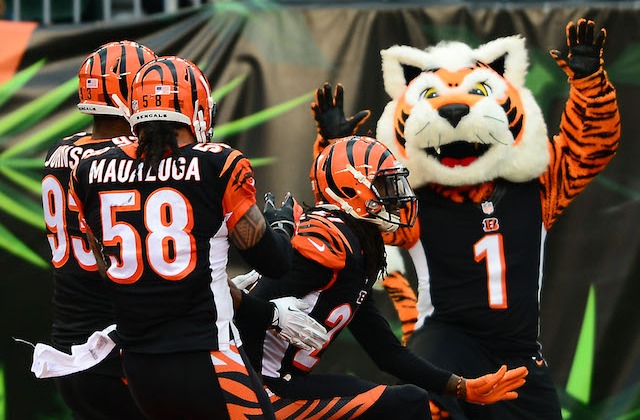 The Bengals opened up their little black book this week, called up all of their sponsors and it looks like the strategy has paid off. About one hour before Friday's 4 p.m. ET deadline, the Bengals announced that Sunday's wild-card playoff game against the Chargers was a sell out, which means the game will be televised locally in Cincinnati.
The Bengals were the last of three teams to announce a sellout on Friday. Indianapolis owner Jim Irsay tweeted on Friday morning that the Colts game against Kansas City was a sellout thanks to Meijer, a local business that bought the final 1,200 tickets.
A few hours after Irsay's tweet, the Packers announced a sellout, which means there will be about 73,000 fans braving the minus-30 degree wind chill that's expected in Green Bay on Sunday.
Fans in Cincinnati will be able to watch the game locally thanks in large part to sponsors who picked up the tab on the rest of the tickets. National grocery chain Kroger bought around 1,200 of the leftover tickets, but that's not all, the Bengals also got help from some big-time sponsors, including: Tide, Bounty, Gillette and COVER GIRL. Easy, breezy beautiful — Bengals-Chargers is on television.
The sellouts in Indy, Green Bay and Cincinnati mean that the NFL will avoid the league's first playoff blackout since 2001.
Also On 101.1 The Wiz: